Hello, welcome to the new Tonebenders website.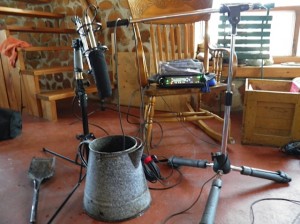 We have been working away to make a bunch of improvements to the way the podcast gets to you. The two main changes are our new web address (formerly www.tonebenders.net, now here at www.tonebenderspodcast.com), and a new RSS feed.
Our new feed has many positives but the one down side is that if you are getting the podcast already through iTunes, or any other podcatcher, you will have to re-subscribe to our new feed. Currently there are two Tonebenders feeds available through the iTunes podcast directory. One is named "Tonebenders Podcast", which is our new feed and the one you should be subscribed to going forward. It will be updated immediately when new shows arrive and has our entire back catalog available for download, from episode 001 up to our newest content. Our old feed in the podcast directory, simply called "Tonebenders", is also still active for now. You will find that new episodes will appear more slowly on this feed, and it also only has the 10 most recent episodes available. Eventually this feed will stop being updated, so please switch over to the new feed ASAP so you never miss an episode. We are sorry we have to ask you to do this but we think the improvements will be worth the effort.
If you do not use iTunes to get podcasts, we have a few new options for you as well. All episodes are up on our Soundcloud page for both streaming and downloads. If you have the Stitcher Radio App, on your phone or in your car, we are now on that network too. If you use any other podcatcher you can find our new feed's address by clicking here, or on the RSS icon in the left column.
The other big change is our new website, which has some cool new features. You can now search for podcast episodes by category. So if you want to hear all our foley related episodes, or ones where we talk about field recording, you can find them all grouped together easily. Also the site features Soundcloud embeds for each episode. This lets listeners comment or ask questions right on the time line of each show. When something peaks your interest or sparks a question, or we got something dead wrong – you can leave us a message right in that spot.
We also have a new "Support the podcast" page where you can leave a buck or two in our tip jar (via paypal). An even better way way to help is to use our affiliate link when you shop at amazon or B&H. Doing this costs you absolutely nothing, we simply get a small percentage of your purchase for sending you to them. This kind of support covers costs of things like server fees, Soundcloud pro accounts and long distance calls. We want to keep this podcast ad free, and we are hoping with a little help from the community we can.
So the deal is this – we promise to keep making Tonebenders episodes and working hard to make it the best podcast on Sound Design out there. In return we just ask that you update your RSS feed to "Tonebenders Podcast" through iTunes and pop our new web address in your favourites. If you really want to be helpful replace your Amazon and B&H bookmarks with our links so you can also help us out if you are already shopping there.
Finally we want to thank everyone who listens to the podcast, without you giving us feedback, ideas and encouragement I am not sure we would have made it this far. So keep up with the likes on Facebook, the retweets on Twitter, reviews on iTunes/Stitcher and blog posts that mention us. We appreciate all the support. The pro audio community is one of the best out there, we are all lucky to be a part of it.