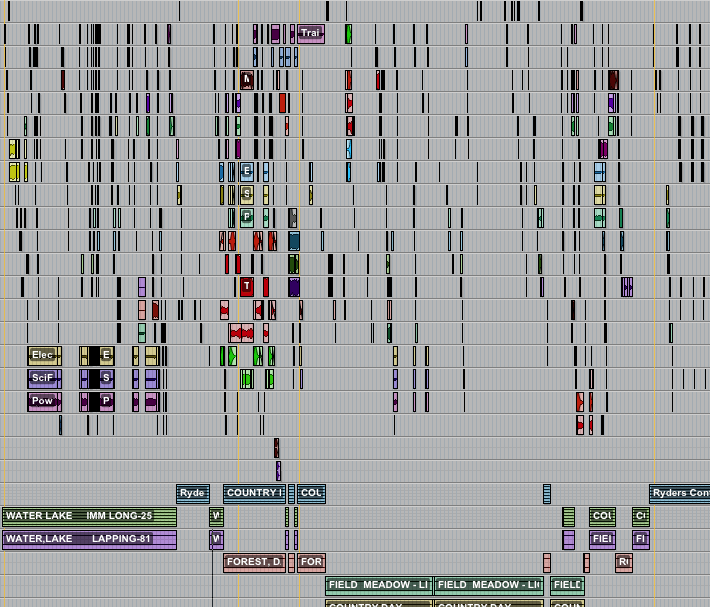 Update #2: Prizes have been announced and the deadline extended to November 20th.  Full details here.
Update: We have got some great prizes for people who contribute a story to this.  Cool SFX Libraries will be up for grabs, some of which are worth hundreds of dollars!  So send us your story of audio glory by Nov. 15th.
Have you ever managed to pull off an audio magic trick?  By that I don't mean an act of clever misdirection where the audience is fooled, although that is always a great thing.  More like when you get a project that has a particular challenge and you have no idea how you are going to solve it.  Then with some hard work, experimentation and a bit of luck you manage pull a rabbit out of the hat and make a beautiful soundtrack moment.   It is one of the greatest, if not thee greatest, moments you can come across in the audio post profession.
About 15 years ago I was working on a nature documentary series that was narrated by a character actor who was very busy with a budding film career.  This meant his availability to come in and record the narration for each new episode was a scheduling nightmare.  We were recording late at night, or on weekends all the time.  He was a great guy and easy to work with, once you got him in the booth, so for the most part this was no big deal.  As the series came to a close, the actor was cast in a film being shot in a remote part of Africa.  To allow him to be a part of this other project, our production agreed to record the last three episodes all together in one mega session.  This would allow him to leave the continent without our show having to find a new narrator to finish off the season.  The record session went great and he was off on his trek across the planet.
But then…….
Some one had made a mistake in one of the scripts! The episode about underwater animals mistakenly had one of the creatures, identified by an incorrect term.  This was a reputable show and it was important to get the facts correct, so we had to fix it.  With our narrator unreachable, the producer came to me with the task of finding a way to magically make the narration say the phrase "Sea Anemone".  It also would have to cut cut in mid sentence with out it sounding out of place with the rest of the narration.  Also nothing much was happening in the shot this line was to sit over.  There was no big music or SFX build to hide these edits in.  I told the producer that this was going to be a really tall task, and I was not sure what could be done.  I also warned them that even if we did find a solution it might be an ugly one.
On the plus side, I had 12 other episodes worth of our actors narration to try to pull words/syllables/sounds from.  So I went digging into all the previous material we had recorded over the past 5 or 6 months.  Since I had engineered all those sessions I had easy access to both the final takes used in the show, and all the unused takes as well.  So I got to work.  After many hours of trying what seemed like endless combinations I had created a new perfect take.  In creating "Sea Anemone" from scratch, I was able to grab a "See" from one episode, the beginning of an "and" from another and then I stole the word "enemy" from a third show.  By playing with a bunch of different takes of all of these, I somehow managed to build a Frankenstein line that did not sound like it had been cobbled together at all.  It also matched up with the rest of the sentence really well.
I was amazed how well it worked.  I never thought I would be able to build anything nearly as good as this turned out.  I played it for the client and they were even happier with the fix then I was.  One of the producers actually gave me a spontaneous high five!?  It was a great feeling to be the hero of the production.
So here is my question to you – Have you ever pulled off the impossible with audio?  If you have let us know.  Record yourself telling your tales of sound  miracles and send the audio file to us for use in a future Tonebenders episode.  For bonus points you can even include clips (before and after maybe?) of what you achieved.  It can be an amazing dialog clean up that saved a scene that was shot in a loud environment (RX to the rescue!).  Or sound design for some crazy device that doesn't actually exist, or how you used sound to fix a major continuity problem in the picture.    I am sure there are a million different versions of how sound can save the day, so lets hear yours!
Here's how to participate:
1.  Grab a mic.
2.  Collect your thoughts.  (srsly, don't skip this)
4.  Introduce yourself (name, where you are in the world, twitter handle or your website if you want)
5.  Tell your story for about 5-10 minutes.  This is both a long and a short length of time, so get to the heart of the issue quickly and dive in.
6.  Email a link to info@tonebenderspodcast.com
Submission deadline is midnight on November 15th.  (We reserve the right to edit submissions for length or to exclude submissions.)
Rene and I will play to your clips and then talk about what you were able to do in an upcoming episode of Tonebenders.
So show us what you got.  This will be fun!
– TMTHY